If you are craving for a new young adult book series to read, here is a list of a few good ones. Remember to keep on reading!
**All summaries taken from Goodreads unless otherwise noted **
To All The Boys I've Loved Before (3 book series) by Jenny Han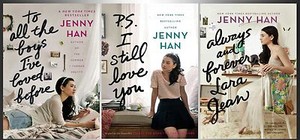 What if all the crushes you ever had found out how you felt about them…all at once?

Lara Jean Song keeps her love letters in a hatbox her mother gave her. They aren't love letters that anyone else wrote for her; these are ones she's written. One for every boy she's ever loved—five in all. When she writes, she pours out her heart and soul and says all the things she would never say in real life, because her letters are for her eyes only. Until the day her secret letters are mailed, and suddenly, Lara Jean's love life goes from imaginary to out of control.
Anastasia Phoenix (3 book series) by Diana Rodriguez Wallach
Anastasia Phoenix has always been the odd girl out, whether moving from city to international city with her scientist parents or being the black belt who speaks four languages.
And most definitely as the orphan whose sister is missing, presumed dead.
She's the only one who believes Keira is still alive, and when new evidence surfaces, Anastasia sets out to follow the trail—and lands in the middle of a massive conspiracy. Now she isn't sure who she can trust. At her side is Marcus, the bad boy with a sexy accent who's as secretive as she is. He may have followed her to Rome to help, but something about him seems too good to be true.
Nothing is as it appears, and when everything she's ever known is revealed to be a lie, Anastasia has to believe in one impossibility.
She will find her sister.
The Prophecy Of The Sisters (3 book series plus 3 novellas) by Michelle Zink
An ancient prophecy divides two sisters-
One good…
One evil…
Who will prevail?
Twin sisters Lia and Alice Milthorpe have just become orphans. They have also become enemies. As they discover their roles in a prophecy that has turned generations of sisters against each other, the girls find themselves entangled in a mystery that involves a tattoo-like mark, their parents' deaths, a boy, a book, and a lifetime of secrets.
Lia and Alice don't know whom they can trust.
They just know they can't trust each other.

The Illuminae Files (3 book series plus 1 novella) by Amy Kaufmann
This morning, Kady thought breaking up with Ezra was the hardest thing she'd have to do.
This afternoon, her planet was invaded.
The year is 2575, and two rival megacorporations are at war over a planet that's little more than an ice-covered speck at the edge of the universe. Too bad nobody thought to warn the people living on it. With enemy fire raining down on them, Kady and Ezra—who are barely even talking to each other—are forced to fight their way onto one of the evacuating fleet, with an enemy warship in hot pursuit.
But their problems are just getting started. A deadly plague has broken out and is mutating, with terrifying results; the fleet's AI, which should be protecting them, may actually be their enemy; and nobody in charge will say what's really going on. As Kady hacks into a tangled web of data to find the truth, it's clear only one person can help her bring it all to light: the ex-boyfriend she swore she'd never speak to again!
Told through a fascinating dossier of hacked documents—including emails, schematics, military files, IMs, medical reports, interviews, and more—Illuminae is the first book in a heart-stopping, high-octane trilogy about lives interrupted, the price of truth, and the courage of everyday heroes.
**summary taken from http://amiekaufman.com/books/the-illuminae-files/illuminae/ **
The Never Sky (3 books plus 2 novellas) by Veronica Rossi
Under the Never Sky: Exiled from her home, the enclosed city of Reverie, Aria knows her chances of surviving in the outer wasteland—known as The Death Shop—are slim. Then Aria meets an Outsider named Perry. He's wild—a savage—and her only hope of staying alive. A hunter for his tribe in a merciless landscape, Perry views Aria as sheltered and fragile—everything he would expect from a Dweller. But he needs Aria's help too; she alone holds the key to his redemption.
Roar and Liv: Before Perry and Aria, there was Roar and Liv. Set in the harsh but often beautiful world of Veronica Rossi's Under the Never Sky, this captivating prequel novella stands on its own for new readers and offers series fans a fascinating look into the character of Roar. 
Through the Ever Night: It's been months since Aria last saw Perry. Months since Perry was named Blood Lord of the Tides, and Aria was charged with an impossible mission. Now, finally, they are about to be reunited. But their reunion is far from perfect. The Tides don't take kindly to Aria, a former Dweller. And with the worsening Aether storms threatening the tribe's precarious existence, Aria begins to fear that leaving Perry behind might be the only way to save them both.
Brooke: Following the stunning climax in Through the Ever Night, the Tides have been forced to seek shelter from the Aether storms in a dismal, secluded cave. But Brooke's memories of the cave go back much further, to when she and Perry used to come here together. Set just before the events of Into the Still Blue, this breathtaking novella is a satisfying stand-alone for new readers as well as an exciting glimpse at favorite characters from the trilogy.
Into the Still Blue: The earth-shattering conclusion to Veronica Rossi's epic Under the Never Sky trilogy. Their love and their leadership have been tested. Now it's time for Perry and Aria to unite the Dwellers and the Outsiders in one last desperate attempt to bring balance to their world.
Scarlet (3 book series) by A.C. Gaughen
Many readers know the tale of Robin Hood, but they will be swept away by this new version full of action, secrets, and romance.
Posing as one of Robin Hood's thieves to avoid the wrath of the evil Thief Taker Lord Gisbourne, Scarlet has kept her identity secret from all of Nottinghamshire. Only the Hood and his band know the truth: the agile thief posing as a whip of a boy is actu
ally a fearless young woman with a secret past. Helping the people of Nottingham outwit the corrupt Sheriff of Nottingham could cost Scarlet her life as Gisbourne closes in.
It's only her fierce loyalty to Robin—whose quick smiles and sharp temper have the rare power to unsettle her—that keeps Scarlet going and makes this fight worth dying for.
**Summary taken from http://www.acgaughen.com/scarlet **