Here are a couple of anticipated YA books being released in June 2019!
All summaries are taken from Goodreads unless otherwise noted.
1.The Evil Queen (The Forest of Good and Evil #1) by Gena Showalter
Evil isn't born, it's made. One thought and action at a time. Take a good look at what you've made.
Far, far away, in the realm of Enchantia, creatures of legend still exist, magic is the norm and fairy tales are real. Except, fairy tales aren't based on myths and legends of the past—they are prophecies of the future.
Raised in the mortal realm, Everly Morrow has no idea she's a real-life fairy tale princess—until she manifests an ability to commune with mirrors.
Look. See… What will one peek hurt?
Soon, a horrifying truth is revealed. She is fated to be Snow White's greatest enemy, the Evil Queen.
With powers beyond her imagination or control—and determined to change Fate itself—Everly returns to the land of her birth. There, she meets Roth Charmaine, the supposed Prince Charming. Their attraction is undeniable, but their relationship is doomed.
As bits and pieces of the prophecy unfold, Everly faces one betrayal after another, and giving in to her dark side proves more tempting every day. Can she resist, or will she become the queen—and villain—she was born to be?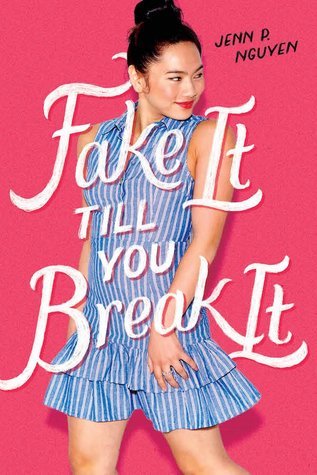 2.Fake It Till You Break It by Jenn P. Nguyen
Mia and Jake have known each other their whole lives. They've endured summer vacations, Sunday brunches, even dentist visits together. Their mothers, who are best friends, are convinced that Mia and Jake would be the perfect couple, even though they can't stand to be in the same room together.
After Mia's mom turns away yet another cute boy, Mia and Jake decide they've have had enough. Together, they hatch a plan to get their moms off their backs. Permanently. All they have to do is pretend to date and then stage the worst breakup of all time—and then they'll be free.
The only problem is, maybe Jake and Mia don't hate each other as much as they once thought…
3.Other Words for Home by Jasmine Warga
I am learning how to be
sad
and happy
at the same time.
Jude never thought she'd be leaving her beloved older brother and father behind, all the way across the ocean in Syria. But when things in her hometown start becoming volatile, Jude and her mother are sent to live in Cincinnati with relatives.
At first, everything in America seems too fast and too loud. The American movies that Jude has always loved haven't quite prepared her for starting school in the US—and her new label of "Middle Eastern," an identity she's never known before. But this life also brings unexpected surprises—there are new friends, a whole new family, and a school musical that Jude might just try out for. Maybe America, too, is a place where Jude can be seen as she really is.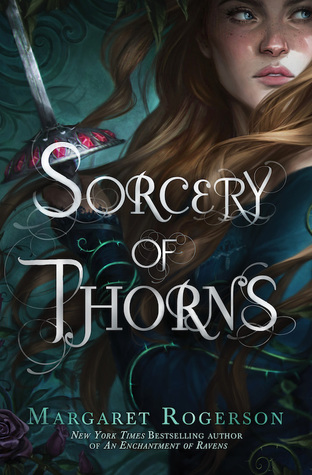 4.Sorcery of Thorns by Margaret Rogerson
All sorcerers are evil. Elisabeth has known that as long as she has known anything. Raised as a foundling in one of Austermeer's Great Libraries, Elisabeth has grown up among the tools of sorcery—magical grimoires that whisper on shelves and rattle beneath iron chains. If provoked, they transform into grotesque monsters of ink and leather. She hopes to become a warden, charged with protecting the kingdom from their power.
Then an act of sabotage releases the library's most dangerous grimoire. Elisabeth's desperate intervention implicates her in the crime, and she is torn from her home to face justice in the capital. With no one to turn to but her sworn enemy, the sorcerer Nathaniel Thorn, and his mysterious demonic servant, she finds herself entangled in a centuries-old conspiracy. Not only could the Great Libraries go up in flames, but the world along with them.
As her alliance with Nathaniel grows stronger, Elisabeth starts to question everything she's been taught—about sorcerers, about the libraries she loves, even about herself. For Elisabeth has a power she has never guessed, and a future she could never have imagined.
5. Shadow & Flame (Rime Chronicles #2) by Mindee Arnett
From acclaimed author, Mindee Arnett comes the thrilling conclusion of the stunningly epic, action-packed, and romantic fantasy adventure about a powerful girl possessed of strange magic, the outcast prince she loves, and the kingdom that has torn them apart.
Kate and Corwin are on the run, desperate for allies in a new world of war among the kingdoms of Rime. As the book opens, Kate suffers a massive loss, one that will shape the struggle for freedom of all Wilders and magic folk—that is, if Kate can learn to control her own power.