Here are a couple of new releases in YA Fiction!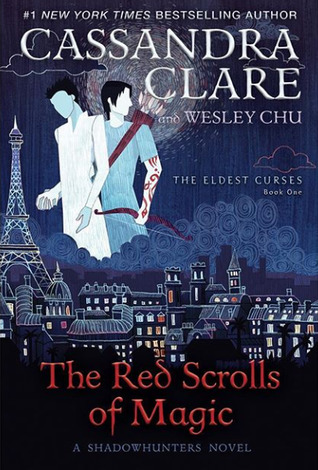 1.The Red Scrolls of Magic (The Eldest Curses #1) by Cassandra Clare
All Magnus Bane wanted was a vacation—a lavish trip across Europe with Alec Lightwood, the Shadowhunter who against all odds is finally his boyfriend. But as soon as the pair settles in Paris, an old friend arrives with news about a demon-worshipping cult called the Crimson Hand that is bent on causing chaos around the world. A cult that was apparently founded by Magnus himself. Years ago. As a joke.
Now Magnus and Alec must race across Europe to track down the Crimson Hand and its elusive new leader before the cult can cause any more damage. As if it wasn't bad enough that their romantic getaway has been sidetracked, demons are now dogging their every step, and it is becoming harder to tell friend from foe. As their quest for answers becomes increasingly dire, Magnus and Alec will have to trust each other more than ever—even if it means revealing the secrets they've both been keeping.
2. Every Moment After by Joseph Moldover
Surviving was just the beginning.
Eleven years after a shooting rocked the small town of East Ridge, New Jersey and left eighteen first graders in their classroom dead, survivors and recent high school graduates Matt Simpson and Cole Hewitt are still navigating their guilt and trying to move beyond the shadow of their town's grief. Will Cole and Matt ever be able to truly leave the ghosts of East Ridge behind? Do they even want to?
As they grapple with changing relationships, falling in love, and growing apart, these two friends must face the question of how to move on—and truly begin living.
3. The City of Veils (Princess Vigilante #1) by S. Usher Evans
For the past three years, Brynna has been patrolling the streets of Forcadel as a masked vigilante, protecting the innocent and beating up bad guys. Her current target is Lord Beswick, a slumlord businessman who keeps the townsfolk in a vicious poverty cycle. But one fateful evening, she's captured by Felix, the captain of the king's guard, and told a shocking truth: her father and brother are dead, and she needs to hang up her mask and become queen.
Before long, she negotiates a deal with Felix: attend to her royal duties during the day and continue her vigilante mission to take out Lord Beswick at night – at least until her coronation. But the politics of Forcadel are as volatile as the streets, and Brynna isn't sure whom she can trust in the castle. With two royals dead in less than a month, she must use all her wits to make sure she isn't the third.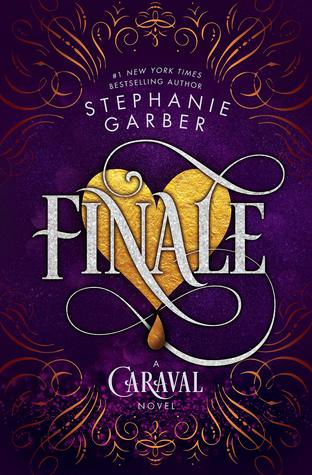 4. Finale (Caraval #3) by Stephanie Garber
Welcome, welcome to Caraval…all games must come to an end.
It's been two months since the last Caraval concluded, two months since the Fates have been freed from an enchanted deck of cards, two months since Tella has seen Legend, and two months since Legend claimed the empire's throne as his own. Now, Legend is preparing for his official coronation and Tella is determined to stop it. She believes her own mother, who still remains in an enchanted sleep, is the rightful heir to the throne.
Meanwhile, Scarlett has started a game of her own. She's challenged Julian and her former fiancé, Count Nicolas d'Arcy, to a competition where the winner will receive her hand in marriage. Finally, Scarlett feels as if she is in complete control over her life and future. She is unaware that her mother's past has put her in the greatest danger of all.
Caraval is over, but perhaps the greatest game of all has begun―with lives, empires, and hearts all at stake. There are no spectators this time: only those who will win…and those who will lose everything. . .
5. We Hunt the Flame (Sands of Arawiya #1) by Hafsah Faizal
People lived because she killed.
People died because he lived.
Zafira is the Hunter, disguising herself as a man when she braves the cursed forest of the Arz to feed her people. Nasir is the Prince of Death, assassinating those foolish enough to defy his autocratic father, the king. If Zafira was exposed as a girl, all of her achievements would be rejected; if Nasir displayed his compassion, his father would punish him in the most brutal of ways.
Both are legends in the kingdom of Arawiya—but neither wants to be.
War is brewing, and the Arz sweeps closer with each passing day, engulfing the land in shadow. When Zafira embarks on a quest to uncover a lost artifact that can restore magic to her suffering world and stop the Arz, Nasir is sent by the king on a similar mission: retrieve the artifact and kill the Hunter. But an ancient evil stirs as their journey unfolds—and the prize they seek may pose a threat greater than either can imagine.
Set in a richly detailed world inspired by ancient Arabia, We Hunt the Flame is a gripping debut of discovery, conquering fear, and taking identity into your own hands.
Hope you enjoy!