Here are a couple of newly released YA Books!
Wildcard (Warcross #2) by Marie Lu – Released September 18th
Emika Chen barely made it out of the Warcross Championships alive. Now that she knows the truth behind Hideo's new NeuroLink algorithm, she can no longer trust the one person she's always looked up to, who she once thought was on her side.
Determined to put a stop to Hideo's grim plans, Emika and the Phoenix Riders band together, only to find a new threat lurking on the neon-lit streets of Tokyo. Someone's put a bounty on Emika's head, and her sole chance for survival lies with Zero and the Blackcoats, his ruthless crew. But Emika soon learns that Zero isn't all that he seems–and his protection comes at a price.
Caught in a web of betrayal, with the future of free will at risk, just how far will Emika go to take down the man she loves?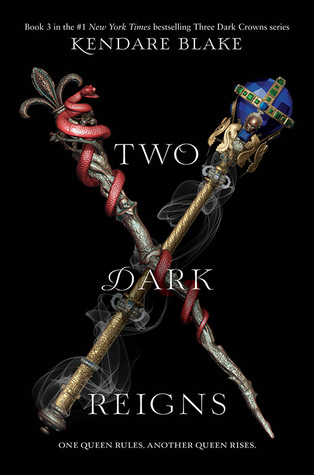 2. Two Dark Reigns (Three Dark Crowns #3) by Kendare Blake – Released September 4th
Katharine sits on the throne, Mirabella and Arsinoe are in hiding, and an unexpected renegade is about to wage a war of her own. The crown has been won, but these queens are far from done.
3. Escaping From Houdini (Stalking Jack The Ripper #3) by Kerri Maniscalco – Released September 18th
Audrey Rose Wadsworth and her partner-in-crime-investigation, Thomas Cresswell, are en route to New York to help solve another blood-soaked mystery. Embarking on a week-long voyage across the Atlantic on the opulent RMS Etruria, they're delighted to discover a traveling troupe of circus performers, fortune tellers, and a certain charismatic young escape artist entertaining the first-class passengers nightly.
But then, privileged young women begin to go missing without explanation, and a series of brutal slayings shocks the entire ship. The strange and disturbing influence of the Moonlight Carnival pervades the decks as the murders grow ever more freakish, with nowhere to escape except the unforgiving sea. It's up to Audrey Rose and Thomas to piece together the gruesome investigation as even more passengers die before reaching their destination. But with clues to the next victim pointing to someone she loves, can Audrey Rose unravel the mystery before the killer's horrifying finale?
By Nitu Girish Mohan