Here are a couple of books being made or are already into movies!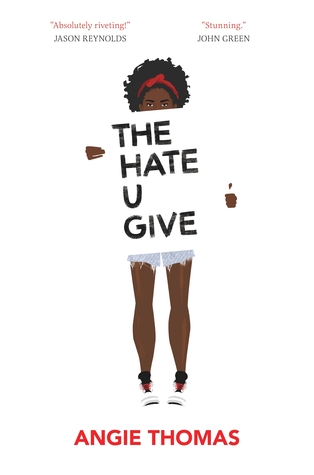 The Hate U Give – October 5th
Sixteen-year-old Starr Carter moves between two worlds: the poor neighborhood where she lives and the fancy suburban prep school she attends. The uneasy balance between these worlds is shattered when Starr witnesses the fatal shooting of her childhood best friend Khalil at the hands of a police officer. Khalil was unarmed.
Soon afterward, his death is a national headline. Some are calling him a thug, maybe even a drug dealer and a gangbanger. Protesters are taking to the streets in Khalil's name. Some cops and the local drug lord try to intimidate Starr and her family. What everyone wants to know is: what really went down that night? And the only person alive who can answer that is Starr.
But what Starr does—or does not—say could upend her community. It could also endanger her life.
2. Simon vs. the Homo Sapiens Agenda by by Becky Albertalli
Sixteen-year-old and not-so-openly gay Simon Spier prefers to save his drama for the school musical. But when an email falls into the wrong hands, his secret is at risk of being thrust into the spotlight. Now Simon is actually being blackmailed: if he doesn't play wingman for class clown Martin, his sexual identity will become everyone's business. Worse, the privacy of Blue, the pen name of the boy he's been emailing, will be compromised.
With some messy dynamics emerging in his once tight-knit group of friends, and his email correspondence with Blue growing more flirtatious every day, Simon's junior year has suddenly gotten all kinds of complicated. Now, change-averse Simon has to find a way to step out of his comfort zone before he's pushed out—without alienating his friends, compromising himself, or fumbling a shot at happiness with the most confusing, adorable guy he's never met.
3. Crazy Rich Asians by Kevin Kwan
When Rachel Chu agrees to spend the summer in Singapore with her boyfriend, Nicholas Young, she envisions a humble family home, long drives to explore the island, and quality time with the man she might one day marry. What she doesn't know is that Nick's family home happens to look like a palace, that she'll ride in more private planes than cars, and that with one of Asia's most eligible bachelors on her arm, Rachel might as well have a target on her back. Initiated into a world of dynastic splendor beyond imagination, Rachel meets Astrid, the It Girl of Singapore society; Eddie, whose family practically lives in the pages of the Hong Kong socialite magazines; and Eleanor, Nick's formidable mother, a woman who has very strong feelings about who her son should–and should not–marry. Uproarious, addictive, and filled with jaw-dropping opulence, Crazy Rich Asians is an insider's look at the Asian JetSet; a perfect depiction of the clash between old money and new money; between Overseas Chinese and Mainland Chinese; and a fabulous novel about what it means to be young, in love, and gloriously, crazily rich.
By Nitu Girish Mohan