TAB Recommends – Science Fiction (Mostly)
Here are some books our TAB members have read and loved recently. We've included the call number so you can come and get them at Reston Regional Library! All summaries taken from Novelist.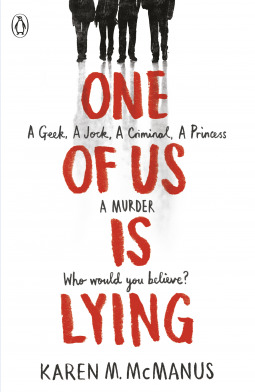 One of Us Is Lying, Karen McManus – YMYS MCM
When one of five students in detention is found dead, his high-profile classmates—including a brainy intellectual, a popular beauty, a drug dealer on probation and an all-star athlete—are investigated and revealed to be the subjects of the victim's latest gossip postings.
Neuromancer, William Gibson – SF GIB 2000
Case, a burned-out computer whiz, is asked to steal a security code that is locked in the most heavily guarded databank in the solar system.
Slaughterhouse-Five, Kurt Vonnegut – FIC VON
Billy Pilgrim, a chaplain's assistant during the Second World War, returns home only to be kidnapped by aliens from the planet Tralfamadore, who teach him that time is an eternal present.
Ender's Game, Orson Scott Card – SF CAR 1991
Six-year-old Ender Wiggin and his fellow students at Battle School are being tested and trained to determine whether they possess the abilities to remake the world — if the world survives an all-out war with an alien enemy.
The 5th Wave, Rick Yancy – YSF YAN
Cassie Sullivan, the survivor of an alien invasion, must rescue her young brother from the enemy with help from a boy who may be one of them.
Winter, Marissa Meyer – YSF MEY
Cinder and her allies are joined in the plot to overthrow Queen Levana by the queen's stepdaughter, Winter, who has long been defying her evil stepmother's wishes by harboring feelings for her personal guard whom she is forbidden from marrying.
Or start at book one:

Cinder, Marissa Meyer – YSF MEY
As plague ravages the overcrowded Earth, observed by a ruthless lunar people, Cinder, a gifted mechanic and cyborg, becomes involved with handsome Prince Kai and must uncover secrets about her past in order to protect the world in this futuristic take on the Cinderella story.
1984, George Orwell – FIC ORW
Portrays life in a future time when a totalitarian government watches over all citizens and directs all activities.
Made to Stick: Why Some Ideas Survive and Others Die, Chip and Dan Heath – 302 H 2007
A groundbreaking resource for those who need to deliver a memorable message introduces six key principles that help make messages stick–simplicity, unexpectedness, concreteness, credibility, emotions, and stories–and explains how to incorporate each of these factors into the creative thought process.
The Martian, Andy Weir – SF WEI
An edge-of-your seat debut thriller with laugh-out-loud dialogue mixed in. After a bad storm cuts his team's Mars mission short, injured astronaut Mark Watley is stranded. Now he's got to figure out how to survive without air, shelter, food, or water on the harsh Martian landscape until the next manned mission in four years.